"To shop, mobile devices gaining, Firms tap rising shopping habit"
Chris Bahn, business editor at the Arkansas Democrat-Gazette interviewed Henry Ho, co-founder and chief business development officer at Field Agent, and Renee Brandon, vice president of research.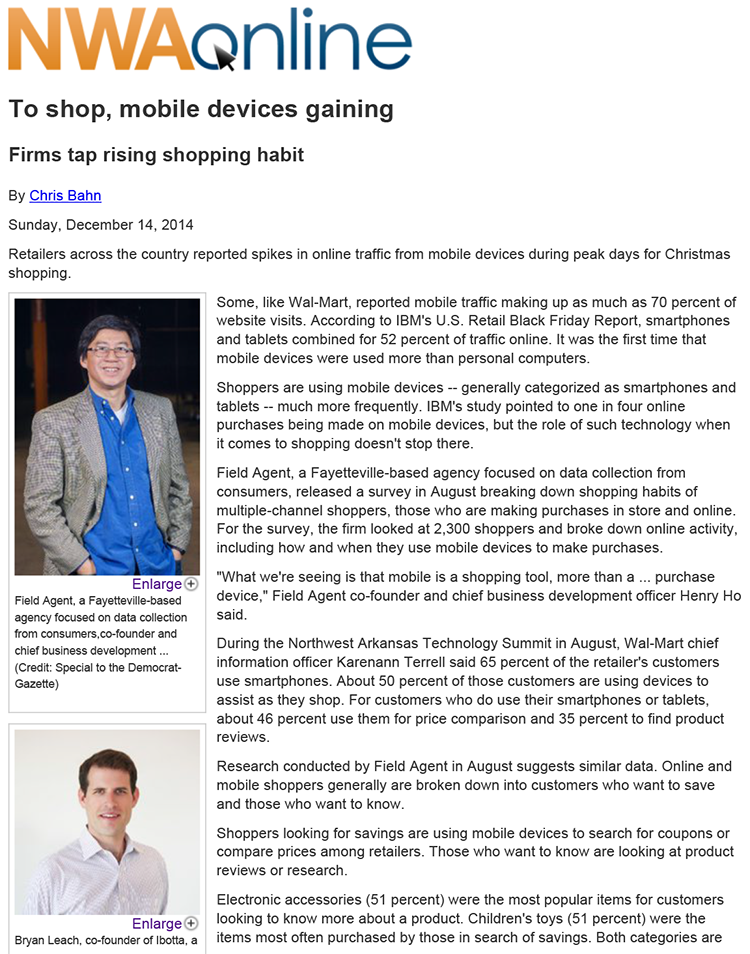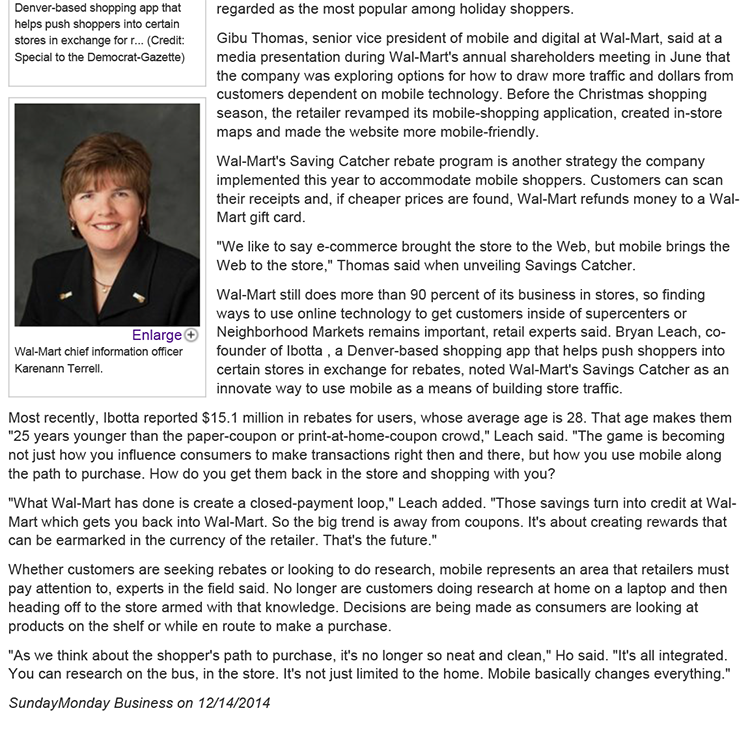 Contact
Field Agent featured in the Arkansas Business Journal for BlackFridayScoreboard.com
Walmart wins Black Friday, the Arkansas Business Journal reported. Field Agent's live BlackFridayScoreboard.com displayed which retailer was winning in real-time for 36 hours on the busiest shopping day of the year.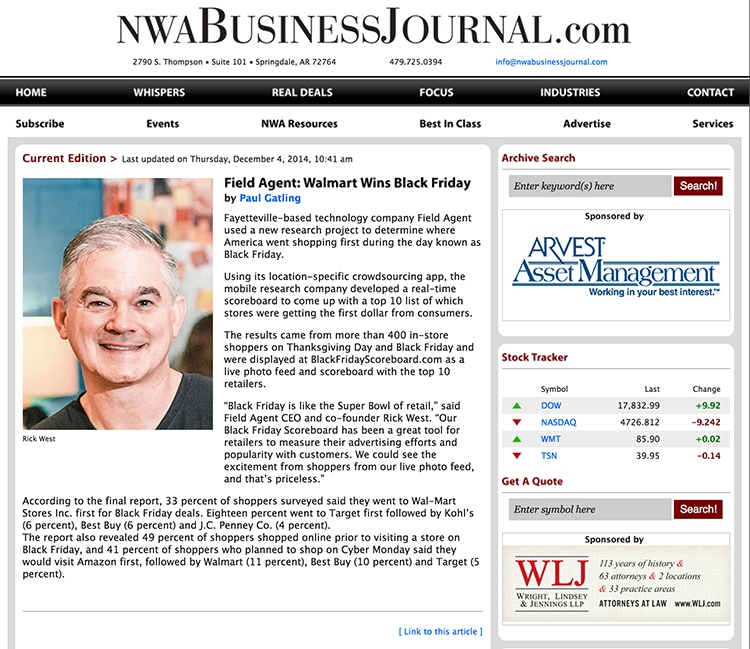 Contact
"Retailers Report Weak Shopper Turnout During Black Friday Weekend, " by Advertising Age
BlackFridayScoreboard.com proved weak shopper turnout that AdAge reported.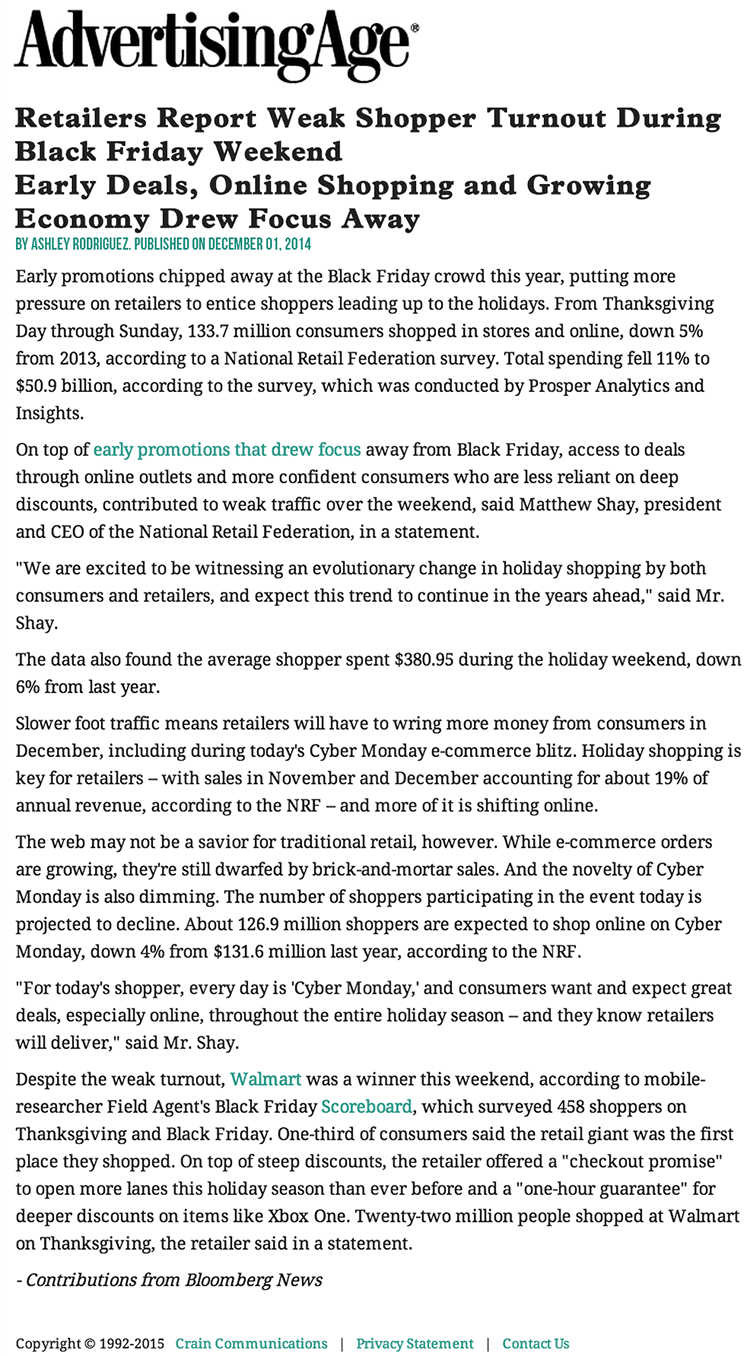 Contact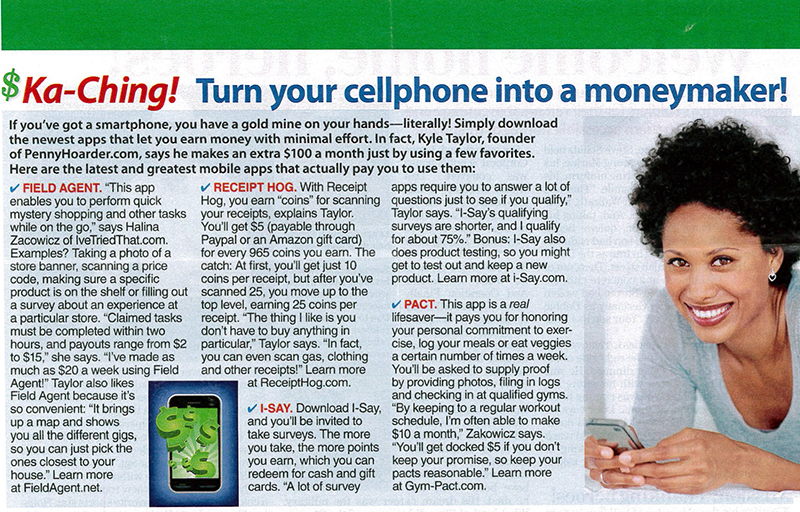 The ease and convenience of earning extra money makes the Field Agent app a favorite among many including Kyle Taylor, founder of PennyHoarder.com.
Contact
Where Is America Shopping On Black Friday? The Black Friday Scoreboard Tells Us
Field Agent Launches A Real-Time Black Friday Scoreboard; See live photos of the lines and find out where America shopped first
FAYETTEVILLE, Ark., Nov. 25, 2014 - Field Agent, a leader in mobile research technology, uses their crowdsourcing app to showcase which stores consumers will shop at first on Black Friday. Thousands of their Agents will be delivering real-time photos and data from around the country. BlackFridayScoreboard.com will be updating as-it-happens from the time doorbuster sales begin until they die down.
Has the biggest shopping day of the year dwindled down? The National Retail Federation expects so this year. Black Friday sales started the weekend of Halloween and lead up to Thanksgiving. Doorbuster sales are no longer at the crack of dawn. And some of the biggest sales start on Thanksgiving evening. But who shops on Thanksgiving – a holiday that moms rank 'family time' as most important, according to Field Agent's study on the most popular Thanksgiving activities.
In fact, shopping came in second on the list and now we'll be able to see in real-time just how many people are shopping on Black Friday at BlackFridayScoreboard.com.
Field Agent is asking 2,000 agents to tell us where they are going to shop first and to take a picture of the lines and crowds at that store. BlackFridayScoreboard.com is going to be a live feed of all of these pictures and will list the top 10 stores that shoppers are going to FIRST. The site will be live from 6:00pm CST on Thanksgiving evening to 12:00 noon CST on Friday, November 28.
"With thousands of people shopping on Black Friday including our agents who are engaged consumers, we thought that this would be a great tool for retailers and brands to see how their store is performing live. I know that I'll be watching on my computer, right next to the football game on Thanksgiving and Black Friday," says Rick West, CEO of Field Agent.
Currently, the countdown is live at BlackFridayScoreboard.com and you can sign up to get notified when the data starts rolling in. A report will also be generated after the results are in.
Original article found here.
About Field Agent: Field Agent has changed the way the world collects business information and insights. The company uses crowdsourcing data via smart devices from everyday consumers. Follow Field Agent on LinkedIn and Twitter. For more information on consumer surveys and mobile research please visit http://blog.fieldagent.net/
Contact
"Which Thanksgiving activities are most popular? Moms answer" on 7News Denver
Visiting with family was overwhelmingly the most popular choice among the 250 moms surveyed, 7News Denver reported. Field Agent's study on what activities are most popular got national attention from E.W. Scripps.

Contact
Field Agent Gets Inside Consumers' Minds as they Shop for Halloween Candy
Using the Field Agent mobile app, the company discovers key shopper insights about brands and retailers
FAYETTEVILLE, Ark., Oct. 28, 2014 - Field Agent utilizes their crowdsourcing app to gain insights about customers shopping for Halloween candy. Consumer brands and retailers now have the knowledge of what their shoppers experience and the decision-making process as they're in the store.
Halloween has become a huge opportunity for consumer-packaged goods to stand out, considering approximately 97% of households will participate in Halloween this year, according to a recent Field Agent study of 250 mothers. Field Agent has discovered what matters most to customers shopping for Halloween candy. Everything from visually appealing packaging and displays to uniqueness of a product stands out in customers' minds.
In a free form survey question, Field Agent asked respondents to describe an improvement retailers could make to the main Halloween candy aisle to better serve customers. One 41-year-old female from California said, "Don't put the aisle so far back in the store. Maybe somewhere in the middle or right in front of the store would be better."
Rick West, Field Agent CEO stated, "We see more and more of our clients using our panel to gather insights in near real-time to supplement their ongoing quantitative studies. Once a potential insight is identified, our team of researchers at Field Agent can quickly come along side and validate and probe into the why. Our clients love the speed and depth that mobile research provides."
It has been made clear that customers respond to unique products with stimulating packaging and displays that are convenient to access. Field Agent highlights what customers look for and what factors influence them to purchase Halloween candy in a free Halloween audit report titled, "Intelligent Audit of the Halloween Candy Aisle."
The report includes several questions from two different surveys, one with a sample size of 300 consumers that participate in Halloween and the other with 250 mothers who have children living at home. For more information on trends and insights of Halloween candy shoppers, as well as other reports on consumer surveys, please visit http://blog.fieldagent.net/
Original article found here.
About Field Agent: Field Agent has changed the way the world collects business information and insights. The company uses crowdsourcing data via smart devices from everyday consumers. Follow Field Agent on LinkedIn and Twitter.
Contact
FIELD AGENT ACQUIRES CORE4 RESEARCH
Acquisition to Enhance Mobile Research and Insights Expansion
FAYETTEVILLE, Ark., Nov. 25, 2013 - Field Agent™, Inc. (www.fieldagent.net) a global leader in Mobile Research has reached an agreement to acquire CORE4 Research™, LLC.
CORE4 Research™ will be integrated under Field Agent's research vertical, with the new team members focused on delivering incremental capabilities and methodologies with a specific focus on insights. The acquisition positions Field Agent™ as a leading strategic mobile research methodology provider for CPG companies, retailers, and research agencies across the globe.
"Mobile Research provides a real-time experiential way to capture a consumer's senses at the moment they interact with our Client's product or service – we call this the Point of Influence™, said Field Agent™ CEO and Co-Founder Rick West. "Combining Field Agent's™ mobile capabilities, with CORE4's research expertise in understanding shoppers' needs, motivations and behaviors will uniquely position Field Agent to serve the research industry as a leader and innovator in the fast- growing mobile research space," West concluded.
Commenting on the announcement, Dr. Todd Shields, PhD., CORE4 Research said, "We are eager to partner with and strategically strengthen Field Agent's™ research capability. As Field Agent™ continues to expand its reach into developing new methodologies, we are excited to join the company who initially pioneered mobile research."
Founded in 2010, Field Agent™ created the space we now know as Mobile Research by releasing the first mobile smartphone app to focus on research data collection and was the first research app in itunes to pay cash to their panel for responses. The business delivers a wide range of location specific research and audit services to over 1,500 Clients in seven countries.
This is the first acquisition of Field Agent™ following its 2013 capital investment from Five Elms Capital. The financial details of the acquisition were not disclosed.
Headquartered in Fayetteville, Ark., Field Agent™ utilizes mobile technology to engage a proprietary mobile panel of over 400,000 smart devices users around the world to deliver data and insights to their Clients. Their solution oriented approach has positioned Field Agent as a strategic partner to some of the world's best-known retailers, consumer brands, consultancies and agencies.
Contact